Between the hours (and hours) of overtime I seem to be putting in at work, the random trips to Florida, and the time I'm spending writing/editing for a new project, I seem to keep neglecting this poor blog.
Here's what's been happening lately, and some love for one of my favorite Etsy shops!
Life Updates:
I went on an impromptu trip to Disney World last week!  If you know me, you know how much I love Disney.  (Real talk:  I cry about sixty two times while there.  It's just like…your childhood, man.  Right in front of you.  Nostalgia overload for the kids who grew up during Disney's power era of Little Mermaid, Beauty and the Beast, Aladdin, and Lion King.  I saw all those movies IN THEATERS.)
One of the best parts about going to Disney in October is that if you attend Mickey's Not So Scary Halloween Party at the Magic Kingdom, you're allowed to wear costumes!  (Normally, adults are NOT allowed to wear costumes in the park.)
I had planned on going as Snow White…
But my new costume didn't come in time, so I resorted to my back up plan…
Belle's village costume from Beauty and the Beast!
It was probably one of the most fun nights of my life, mostly because little kids kept screaming "MOM! IT'S BELLE! BELLE!" every time they saw me.  I've played princesses before, so it was so fun to stay in character and talk to the kids I met.
\
I also met Gaston!  He was pretty hilarious.
I'd love to go back next October and do it all over again!  I'd probably do Snow White this time…now that I actually have my costume.  (It was delivered one day late!  Grr..)
Shopping Updates:
I am now two coats richer.  Coats are my favorite thing to buy–mostly because I get so much wear out of them!
I'd been saving a J.Crew giftcard for when this little beauty went on sale…
And I love layering it over everything.  The J.Crew field jacket is incredibly versatile, and I know it will last me years.  (It's also 25% off right now!)
I'd also been loving the quilted barn coats, but I hadn't found one I really liked.  On Saturday, we had dinner at Tyson's Galleria, and I browsed through J.Crew afterward.
There, I found the perfect barn coat at an additional 30% off the sale price!  It's an army green, rather than the navy showed below.  If you look online, I only see it in a dark maroon (which is also pretty!)  I had bought some spending money to Disney to hit the Tory Burch outlet in Orlando, but much to my dismay, the outlet prices were maybe $20 cheaper than the actual store prices.  (Just how is that a better deal?)  I ended up not buying anything, and I was glad I had the extra $$ when I went to J.Crew!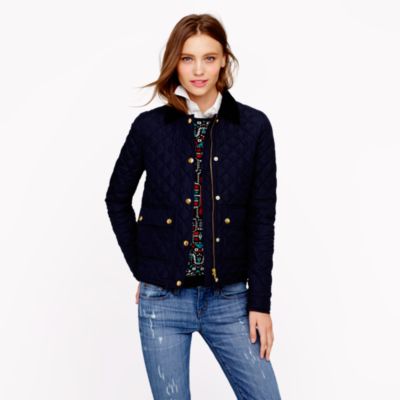 Okay…moving on.  I also recently connected with Pink Preppy Shop on Instagram.  She makes adorable, affordable skirts, and I'm quickly starting a little collection!  (She also teaches in the same small New Jersey town my mother grew up in–and where I spent some very happy summer vacations!  Small world.)
I recently started beefing up my collection.
Here are some of my other favorites from her shop:
The perfect plaid skirt for Christmas!
Probably the most sought after Lilly Pulitzer print of the last few years– Tusk in Sun!
Lilly Pulitzer Get Nauti skirt
Nutcracker!  I love this!  How cute would it be layered with some thick stockings and a cozy navy cardigan for a Christmas party!?