Summer might finally be here, but my office is still freezing 99% of the time.  My work clothes don't change a lot from winter to summer–besides losing the thick tights and winter jackets.  I still need layers to keep warm, but a lot of times, the minute I walk outside to the 90+ degree humidity of the DC area…I'm almost immediately dripping in sweat.
So, I layer.
My go-to, unofficial, no-brainer uniform every day at work is as follows:
Lightweight Cardigan
+
Fun Button Down
I've noticed that nearly every day for weeks, I've worn a variation of the same thing.  If I'm cold, that's fine because I have multiple layers on.  But, if I get too hot, I can lose the cardigan, and roll up the sleeves of my button down.
I mostly try to keep my sweater neutral (navy, red) and then go for fun patterns with my button downs.  My secret tip?  The men's section is great for finding comfy button downs.
Here's some of my favorite combinations:
Green Gingham / Chambray Shirt / Pink & Green Plaid / Blue & White Stripe
(all colors on sale for $21 each!  It's a great price, so this is a good time to stock up on ALL the colors!)
Bonus Points:  Add a sparkly statement necklace to really add some POP to your uniform.
I love these options from J.Crew factory (and they're all an extra 30% off!)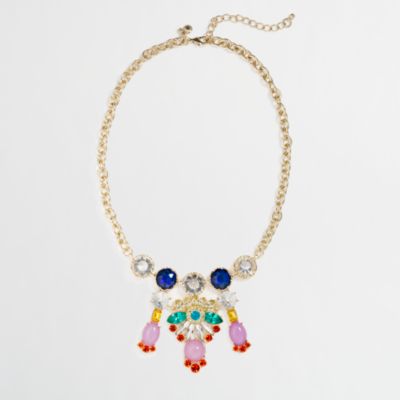 Chandelier Necklace (I have this one!  It's SO pretty!)