Sometimes I wish that style wasn't so heavily associated with labels.  Despite my blog title and self-proclaimed love for all things preppy, I think the danger of ascribing to a single style theory can be that we fall into a very specific rut.
I think the definition of someone who is truly stylish is that they are confident to wear what they like (and what looks good on them) no matter what the current trends are dictating.  That's one reason I do love the "preppy" aesthetic–no matter what fashion trends are doing, classic pieces in traditional colors will never go out of style.
While the All-American, nautical, WASPy, preppy, etc side of me is extremely established, I also have another aesthetic I have loved since I was very young.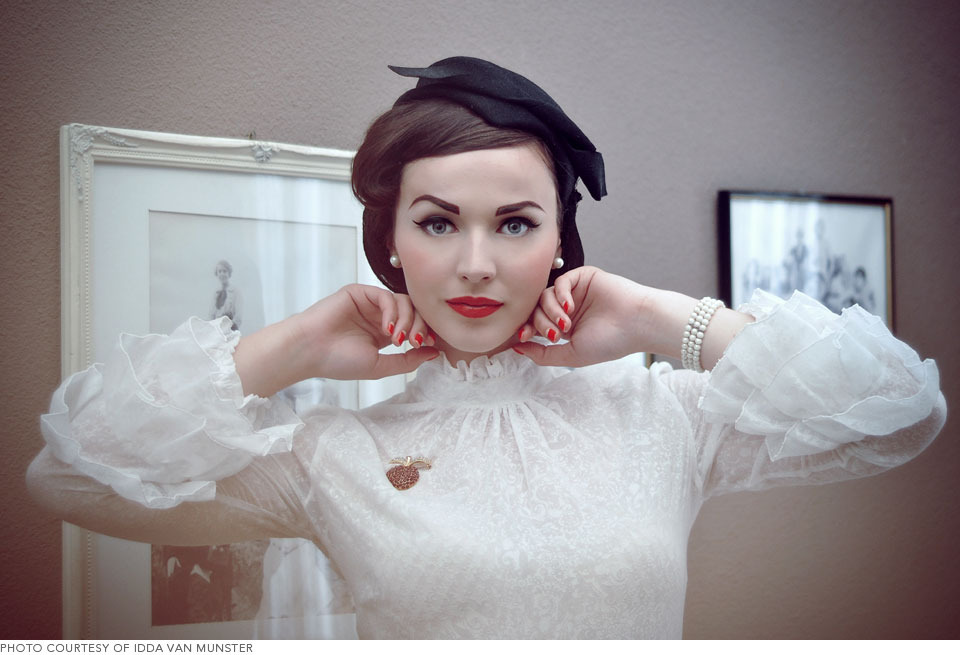 The Pin Up.
I've always defined my style as Blair Waldorf meets Dita von Teese.  While I wouldn't recommend blindly googling Dita due to some NSFW images, I enjoy looking at street style photos of her because she holds true to a very classic idea of glamour.  Just like how the All-American Ralph Lauren-inspired looks won't ever go out of style, the perfectly cut retro style dresses will always look exquisite as well.
While I was in college, I took a class on the female warrior in literature and pop culture.  Unsurprisingly, much of the class focused on ideas of feminism.  I was sad to see how many people in my class liked to tease me about being a "feminist's worst nightmare".   While a lot of it had to do with my beliefs about a woman's role when it comes to marriage, they also liked to say that this idea of wanting to look your best all the time was outdated.  Women shouldn't have to look good!  Makeup is a man's invention to keep us down!  RAH ARG BLAH.  (Apparently because I wore red lipstick every day, I was stuck in a Stepfordian daydream.)
I'm sorry, but that just seems to go against the very idea of feminism.  I enjoy makeup and looking nice, but I should stop enjoying it because men like it when I enjoy it?  (Ahh!  So convoluted!)  I should stop wearing dresses because that's what men like and switch to sweatpants because a guy should like me for me?  What if "me" is more comfortable in a sundress?
I think there is a huge debate that could be had about this subject, and I'm interested to hear your opinions.
###
In my years of admiring the retro, pin up culture of the 1940's and 1950's, here are a two things that have stood out to me:
Always Be The Best Version of Yourself.  Whatever you perceive your best to be–strive to hit that every day.  I literally cringe when I see girls out in public wearing baggy pajama pants, Uggs, and no makeup.  Sure, it's easier, but for me, it's a matter of personal pride.  I think you show respect for others when you show respect for yourself.
Now, I'm not saying you have to worry about a full face of makeup and a perfectly coordinated outfit every day, but part of embracing this glamorous culture is striving to achieve your best look on a daily basis.
I've had so many cool opportunities arise just from how I looked.  (Not in a beauty sense, but more so from a stylistic viewpoint.)  Potential jobs.  Free swag at events.  Discounts at stores.  New friends.  I think we can add to the quote above: "You show respect for others when you show respect for yourself… and others will show respect for you when you respect yourself."

Develop a Trademark.  Blair Waldorf had the headband, and Dita has the lipstick.  Find something that is specific to you, and embrace it.
I have a few different style quirks.  I wear red lipstick almost every day.  It's gotten to the point that I feel kind of weird without it, and I'll have people ask me if I forgot my lipstick on days I don't wear it.  I also really love leopard print–it's incorporated into almost every outfit I wear.  Lastly, I can't resist nautically inspired designs.  It's pretty cool to get picture texts from friends of girls in red lipstick or wearing leopard print and have them exclaim they saw her and thought of me.  (Plus, having a "trademark" makes it so easy for people to buy you gifts!  I have so many adorable random nautical gifts from my friends.)
I know I don't do a ton of personal pictures on this blog, so hopefully you guys don't mind a few!  And if you're curious, the two lipsticks I wear most is either Ruby Woo or Russian Red–both from MAC!
I'm in the middle with two of my close friends!  This was at a recent wedding, and we totally didn't plan to be so American…
With one of my best friends at the most magical place on earth…Disney World!
Hanging out with my niece!
This is actually a vintage dress from the 1960's!
Great Reads:
I loved this article about Idda van Munster on Beautylish.  Not only is she stunning, but she very eloquently summarized a lot of the reasons I love the pin up culture.  (I really liked her explanation on what a pin up is.  I think a lot of people automatically assume it's about half-naked girls in provocative positions, it was actually originally about beautiful, fully clothed women.  I like the idea that modest can be beautiful, but that idea seems backward to a lot of people.)
I have a few Pinterest boards that embrace my love for all things Dita, Blair, pin up, Stepford, and red lipstick!  (I'm a little obsessive with Pinterest, so get ready for dozens and dozens of incredibly specific boards.)
Style Bomb:
Here are some of my favorite shots of Dita's street style.  She's just impeccable!