When I was in first grade, we had to draw pictures of ourselves doing our dream job.  All around the classroom hung depictions of ballerinas, firefighters, doctors, superheroes.
Then came my picture.  I was wearing head-to-toe olive green (ew!), and holding a hoop in one hand and whip in the other.  Surrounding me were dozens of little red foxers.
Little Tierney just wanted to be a fox trainer.
Now, I have no idea where that came from.  Did foxes even need trainers? Apparently, my six-year-old self was convinced that there were foxes out there that were in desperate need of training.
Fast foward *cough* years to yesterday, when I'm browsing around the [gorgeous] Tory Burch store in Tyson's Galleria.
What do I see?
FOXES.  EVERYWHERE.
Leather Fox Ballet Flats (in navy and as a smoking slipper too!)
foxy printed chiffon scarf / fox head stud earrings
foxy hardshell iPhone case / leather stud wrap bracelet
gold kissing foxes bracelet
suede foxface cuff / kissing foxes belt (not pictured) / fox Samantha sweater
Let's just get a closeup of these fox ballet flats: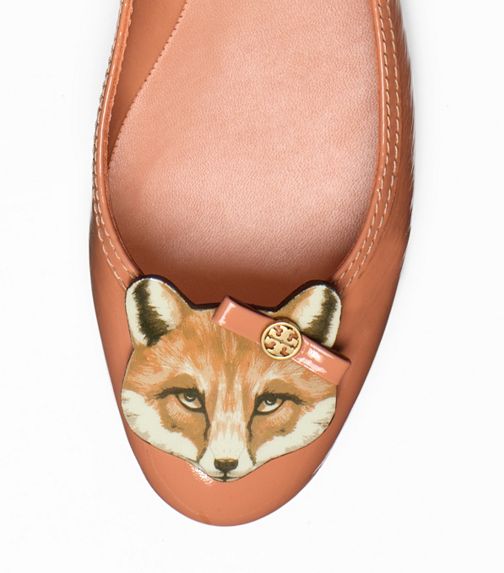 You look like you need some training, little buddy.