While everyone knows my favorite color will always be leopard, the classic polka dot print is a close second. While perusing the Georgetown Madewell the other weekend, I came across the most perfect pair of
jeans
–faded blue with white polka dot.
I did a little internet treasure hunt to see what other polka dot prints were hoping for a home in my closet.
Current/Elliott The Stiletto Jeans – $218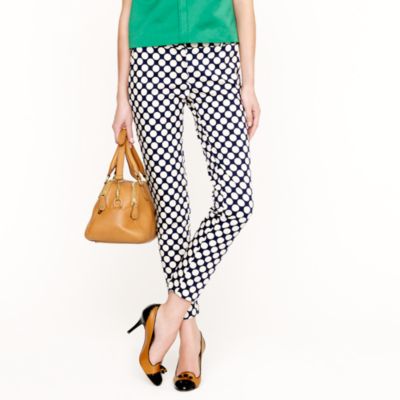 Cafe Capri in Pop Art Polka Dot – J. Crew – $118
If you do pick up a pair, make sure to keep the rest of your outfit as neutral as possible. Since you're wearing such a fun, bright pant, you don't want to mix it with another crazy print and come off looking like a rodeo clown.
You really can't go wrong with matching the color of the polka dot to your shirt. A clean, well-fitting white top tones can tone down the craziness of the pant, but if you're feeling brave, go for a brighter (but still neutral) color like yellow or red.
xo
Tier