I love coats.
I find myself buying/wanting coats more than any other article of clothing. Back in the olden days
aka college but shh I'm not old
, I was asked to write an article for our campus newspaper about Winter Fashion. Obviously, I rhapsodized about the importance of owning a beautiful coat. So many people just schlep on whatever and worry about warmth, but they don't realize that when it's cold, often your coat is the only thing people see you in. Your entire style is summed up in that first impression–your coat!
In stores, I gravitate towards the coat section. I like longer coats better than shorter coats (maybe they're more fancypants?), and the more unique the design, the better.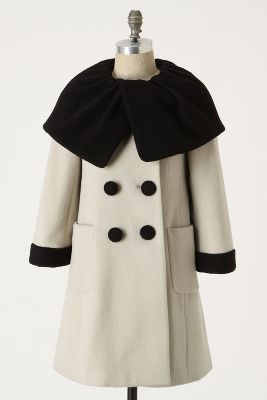 This is from Anthropologie. It is on sale for $200, and over the past month, I have tried it on/pet it/carried it around the store about a dozen times.
It's so pretty and ladylike.
Someone please buy this for me.
Please.
xoxoxoox
Tierney